On March29, 2021, Afai Southern Shipyard (Panyu, Guangzhou) Co., Ltd., jointlycontrolled by China State Shipbuilding Corporation and China COSCO ShippingCorporation, held a delivery ceremony at Qingdao Olympic Sailing Center for"Qingdao Tourism 002", an aluminium alloy caramaran sightseeing cruiserdesigned and built by AFAI for Qingdao Tourism Group.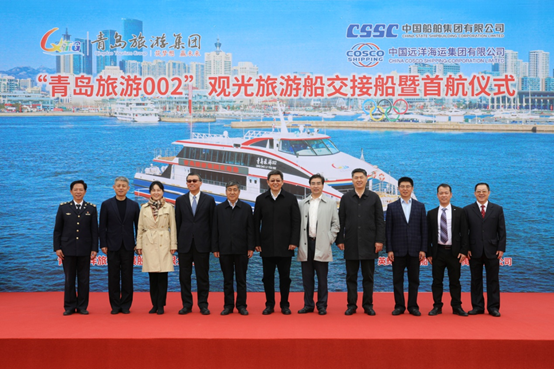 "QingdaoTourism 002", specially designed by AFAI for maritime tourism and sightseeing,has a total length of 35.6 meters, a molded breath of 9.8 meters, a designspeed of 16.5 knots, and a trial speed of 16.9 knots. With the characteristicsof low noise, good stability, economic efficiency, high ride comfort andstylish appearance, the ship is an important infrastructure for Qingdao TourismGroup in the layout of marine tourism investment, wharf construction, seafishing, marine tourism development, diving, yachting and other industries. Thesuccessful delivery of the ship has rejuvenated the development of QingdaoTourism Group's marine tourism, and has improved the quality of experience andservice. It is a milestone in the establishment of a long-term cooperativepartnership between Afai Southern Shipyard and Qingdao Tourism Group.
Sun Lijie,Member of the Standing Committee of Qingdao Municipal Committee and Director ofthe Propaganda Department, Zhu Peiji, Deputy Mayor of Qingdao, Wan Jianzhong,First Inspector of Qingdao Municipal Government, Sui Bangru, Deputy Director ofQingdao Culture and Tourism Bureau, Wang Xinwen, First Investigator of QingdaoAdministrative Approval Service Bureau, Wang Hong, Secretary of the PartyCommittee and Chairman of Qingdao Tourism Group, Sun Dongsheng, Chairman of CSSCYuanzhou (Beijing) Technology Co., Ltd., and Chen Xiaoliang, General Manager ofAfai Southern Shipyard Corporation, attended the delivery ceremony.
Mr. SunDongsheng sincerely appreciated Qingdao Tourism Group for giving AFAI theopportunity to participate in the construction of the sightseeing cruiserproject, and expressed that he will continue the following work, maintainingconsistent quality and service, offering strong guarantee to Qingdao TourismGroup, to help the development of marine tourism industry in Qingdao.
Ms. Wang Hong, the Chairman of Qingdao TourismGroup, said that she is very grateful to AFAI for overcoming the COVID-19epidemic and delivering a high-quality and high-value tourist cruiser on time.It reflects the responsibility of state-owned enterprises and the spirit ofcraftmanship of AFAI. She hopes that there will be more opportunities tocooperate with AFAI to promote the development of marine tourism industry inQingdao.