On March 28, 2018, there are "double- bang" in AFAI, that two building vessel was hold keel laid ceremony.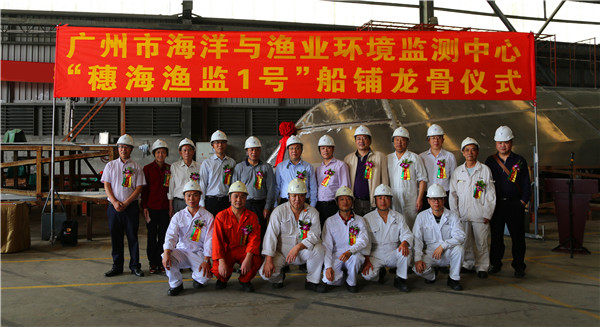 At 10:18 am, Zhan Jianpo, the secretary of the Guangzhou Marine and Fisheries Environmental Monitoring Center, Guo Weining, the IQC of Guangdong Fishery Ship Inspection Bureau Panyu Inspection Station ,and Liu Junhua ,the manager of Guangdong Guangyuan Fisheries Group Shipping Co., Ltd, were took part in the keel laid ceremony of the "Suihai Yujian 1 Hao"(ASA073), as well as Liu Yong and Chen Xiaoliang ,the vice general mangers of AFAI witnessed this ceremony together. When Zhan Jianpo and Chen Xiaoliang jointly knocked on the keel three times ,announcing the official completion of the keel.
At 11:18 am, the eighth aluminum high-speed passenger vessel (ASA075) that AFAI build for Shenzhen Transportation Groups was hold keel laid ceremony, when Lin Zhongwen, the general manager of ship technical department of Shenzhen Transportation Groups, and Liu Yong jointly knocked on the keel three times ,meaning the keel officially completed.