Ulstein has been awarded the design and equipment contract for Van Oord's new subsea rock installation (SRI) vessel 'Bravenes'.
Working in close cooperation with Van Oord, Ulstein will be responsible for the development and integration of both the mission equipment and vessel design.
The vessel will be constructed at Sinopacific Shipbuilding Group in China and delivered in 2016.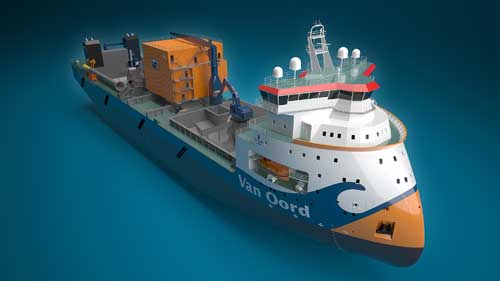 The vessel will feature DP3-rated dynamic positioning, as well as an Ulstein X-Bow. The vessel will also feature "clean design" notation, as well as a "green passport" and Ice Class 1A.
Measuring 154.4 metres in length overall, with a beam of 28 metres and a draught of eight metres, the vessel will be powered by two 3,840kW engines and will have a speed of 13 knots.
Constructed under survey to Bureau Veritas, the vessel is designed for year-round operability in harsh weather and high-sea states.
Under the contract, Ulstein will also supply the main fall pipe deployment system and the majority of the ancillary systems of the SRI tower.
(From:www.bairdmaritime.com)